Beauty products, just like fashion, is always evolving. I wouldn't consider myself a product junkie, but I do like to try new things from time to time, depending on the price. Nothing is worse than unloading your wallet for a beauty product that ends up being pretty terrible! (Luckily though most places have a great return policy even on beauty products)
Sometimes though, I strike it rich, and find products that just work for me. I immediately fall in love with them and they become a permanent fixture in my daily beauty routine.
1. Sally Hansen Airbrush Leg is the best. I don't know how I have lived without this for so long. One of my customers told me about this a few weeks ago and I went out the next day and got it. It doesn't completely hide all of my cellulite and imperfections on my legs but it certainly masks them a good bit. I am telling you- if I am wearing anything other than pants or a maxi, this goes on my legs. It is super easy too. Spray into your hands, rub evenly on your legs, let it dry for 60 seconds and you are good to go. Totally fool proof. It looks natural as well. Like my legs don't look insanely tan or orange compared to the rest of my body! I am currently using medium. I got light for the later months when I may not have a little bit of a tan!
2. Bare Minerals Pure Radiance is also great for the summer months. I usually apply this lightly all over my face. It's also the last thing I usually do. It gives just enough glow. I also feel like it helps hold my makeup in place a little longer too (although the mineral veil is meant for that and works really well too). There are plenty of shades to choose from, including clear if you don't want a little tint at all!
3. I started using Rejuvacote a few years ago when I was teaching. One of my students used it and got me hooked on it. I forgot about it for a while and recently started using it again. It works so well- I notice my nails grow quicker and are stronger when I use it. It works really well as a base coat, and just makes your nails look more polished (no pun intended, I swear) when used alone as a clear coat. I swear by this stuff for your nails!
4. I have always wanted to give the whole 'cat eye' thing a try but was never brave enough to until Benefit came out with their new eye liner They're Real Push Up Liner. The AccuFlex tip does make it pretty easy to apply. It lasts a long time and doesn't smudge either. So far, so good! The price tag is higher than what I am usually willing to pay for makeup, but a little bit goes a long way, and I don't use it every day!
5. Dry shampoo is something that I can't live without. I have tried a bunch over the last couple of years. Some have been great, some just ok. I got Not Your Mother's Clean Freak Dry Shampoo on a whim to try when I was at Target the other week. (that was the morning I went in for just dry shampoo and came out with all of this) I had no clue Target sold NYM products there! I have been using their sea salt spray for a while and love it, so thought I would give this a try! Let me tell you, it is amazing. It leaves my second and third day hair fresher, fuller looking and the smell is good too. I also like to spray a little at my roots, even on my freshly washed hair just to give it a little texture and lift.
6. Oh where do I even begin about this highlight/contour palette! I had a small one from Target (NP Set) which is good for beginners but have been looking to expand a little and actually learn how to highlight and contour! Aubrey from The Kinch Life had posted about this Blank Canvas Cosmetics palette a few weeks ago along with a really great how-to video. The price tag is even better! I have been using it every day, and absolutely love it. Love. It. And honestly, it doesn't add that much time to my beauty routine! (PS- this is another great tutorial. A little bit more involved but awesome!
7. This Cover Girl eyeshadow in Champagne is an oldie but goodie. I feel like I have had this in and out of my makeup bag since I started wearing makeup! Now, I like to swipe it on my brow bone (I also like Bare Minerals Queen Phyllis) for a subtle shimmer. I also like to dab a little on my cheekbone for some added shimmer to my whole look!
There you have it! My most favorite beauty products that I can't live without! Wallet friendly (for the most part), and products that actually work really well!!
Now onto the super fun stuff (and speaking of beauty!!)! Excited to be teaming up with Ashley from Afternoon Espresso and some other great ladies to bring you an awesome giveaway!! Best of luck to you all! Take it away Ashley….
Happy Monday everyone and what a wonderful way to begin your week with a fabulous giveaway??? Remember my post last week about my beauty update? Well, I'm teaming up with these lovely ladies to bring you some of those favorites I listed so you can try yourself as well as a $75 gift card to Sephora to get some of your favorites!
The Life of the Party Kate the Almost Great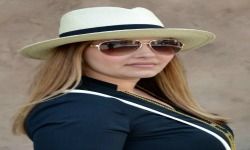 Mommy in Heels The Style Storm
Jamberry Nails By Summer Moore
Prizes:
Enter to win below!!